Solutions
---
Intensive Agriculture Structures for Protected Crops
EAT's solution for protected crops always include some type of main crop structure. These main crop structures can be divided into three major groups:
Greenhouses A structure covered with either a flexible or rigid cover which provides a controlled micro-climate in accordance with the specific requirements for the crop. The covered area can be completely isolated from the external environment. Greenhouses are built to accommodate any technology, equipment or sub-system to compensate for weather condition and requisites. These may include insect nets, shading screens, thermal screens, ventilation systems, heating systems and much more.
Tunnels A low volume structure with a limited size. The tunnel provides an optimal solution for some crops given a cost to external climate protection ratio. Used primarily in hard topographical locations such as slopes, etc.
Net Houses This a family of structures providing some protection with natural ventilation. Net houses can employ any combination of nets adapting to specific needs such as insect nets covering for protection against insects, shade screens to reduce heat load, nets protecting from hail used for fruit protection and much more. An example for a combination of nets can be the insect net-shade screen house which is used for crops which are not sensitive to rain or in an area where precipitation is scarce.
Structures for animals and livestock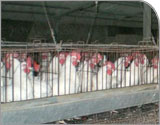 EAT provides solutions for animals and livestock which are very distinct depending on the species:
Poultry Laying
Poultry Meat
Cattle Dairy
Cattle - Beef
Sheep and goat
Fish intensive growing

EAT's solutions cover the entire production facility, from the growing sheds for the animals (with the exception of fish which are grown in greenhouses) to the slaughterhouse and breeding facilities.
Extensive Agriculture - Open Field Crops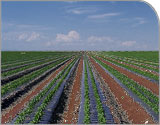 EAT can assist in establishing open field crop farms, normally complementing an intensive agriculture project. Theses crops include:
Field Crops
Vegetables
Fruits
Flowers
Green products (spices and herbs)
Grains
Corn
Other structures and design elements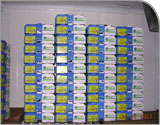 Additional structures are used in our solutions such as packing houses, slaughterhouses, icehouses and storage sheds where appropriate. In addition we provide a total design layout of the farm, including roads, structure locations, inbound and outbound transportation and an efficient procedural flowchart scheme offering an optimal layout.